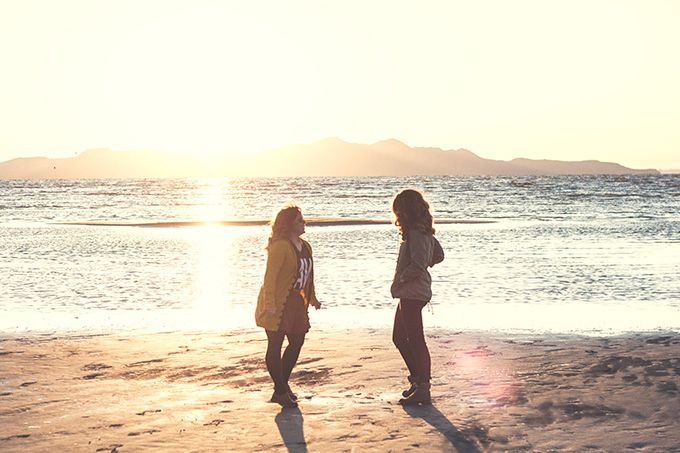 Good news! Lauren and I (the authors behind this here blog) were able to have some adventures together last week! She came to stay with me and we had a blast. One of my favorite adventures was our trip to see THE Great Salt Lake.
(enjoy this obvious song choice to go with the post. i'm not sure what the video has to do with SLC though...)
We arrived as the sun was setting- one of the best times to visit a lake. The sun glistened off the water and cast stunning flares over the west mountain.
The views around the lake are incredible. Mountains in the distance and salt flats for miles.
It's a pretty dry area considering there's a lake. I am sure there are better times of year to visit, times when the lake is more full. But no matter when you visit, be prepared for the smell... Oh ya, it stinks. You kind of get used to it until you get in the car and realize it's sorta stuck around.
I haven't been out to Antelope Island yet, but that is on my goal list. But just visiting the marina is a good time and a great place for photos.
Be aware that this isn't a lake you go to swim in, or fish, or lay on the beach... This is more of a- look how pretty it is but don't touch anything and plug your nose- kind of trip... Ok, doesn't sound appealing when I put it that way, but trust me, it's worth seeing. I guess we didn't visit the right spot, further north is the place to be- apparently.
Some fun facts about The Great Salt Lake:
- It's the largest lake West of the Mississippi, it's 75 miles long and 35 miles wide
- It has the highest salt content next to the Dead Sea, it's salty because it doesn't have an outlet
- You can float in the GSL because of all the salt
- If you head about an hour north of SLC you can visit the Spiral Jetty (I'll try to do a post on that soon)
- There used to be lots of fun things to do at the GSL, including a roller coaster
- The GSL is the remnant of Lake Bonneville, a great ice age lake
Reaching the lake from Downtown SLC only takes about 20 minutes, unless you're looking for more of a recreational beach. Then it'll take longer.
I fully plan on returning to the lake and getting the full experience. Maybe one day I'll be brave enough to test the waters (to see what it's like to float without trying)... Or maybe I'll just take everyone's word for it.